?</span>

2002 M3 - Topaz Blue Metallic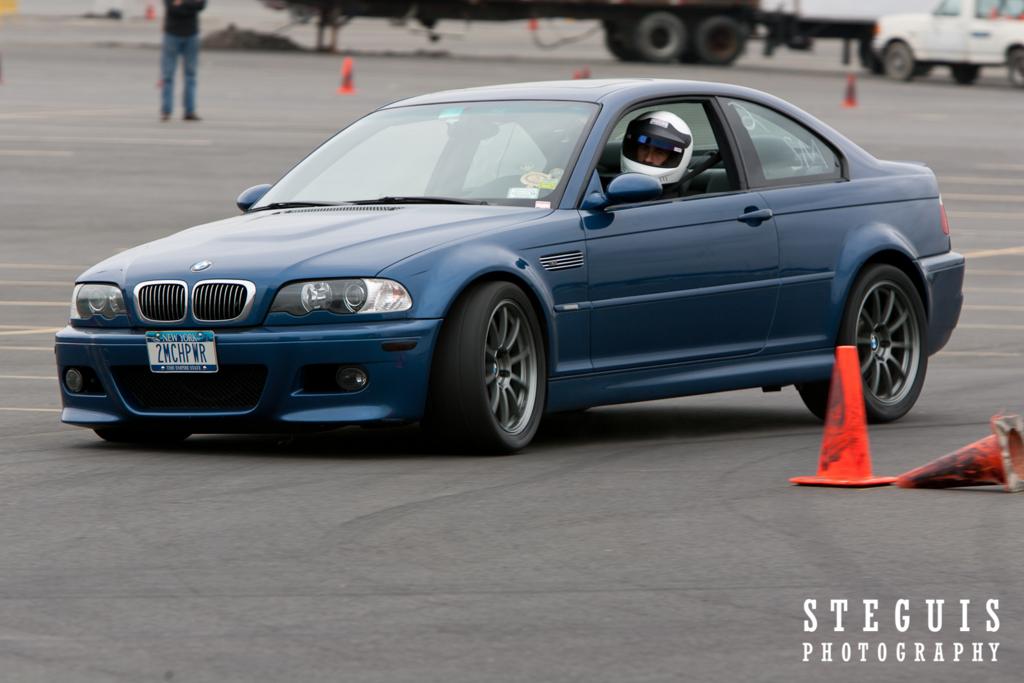 Factory Options:
19x9.5 (rear) and 19x8 (front) Competition Package (CSL) wheels, 245/35/19's up front, 265/35/19's in the rear

CSL cross drilled rotors (at 345x28mm in diameter, they are 20mm larger than normal US version) and CSL calipers

Interior has the Competition (CSL) package aluminum trim

Harmon Kardon stereo, sunroof, heated seats, bi-xenon headlights
Aftermarket Modifications:
Eibach lowering springs

Dinan cold air intake and adjustable front sway bar

Braided Stainless clutch line and brake lines

Air Scoops

For the track, 18" x 9.5" TR Motorsport MT1 wheels
---
8/30/2010 - Painting front fenders and passenger door
8/31/2010 - Took her home for the first time
9/7/2010 - Got some racing wheels and tires
9/9/2010 - Alignment. Asked the guy for -2.5 camber front but he couldn't get that. Hope the race tires don't rub. Will find out in 2 days.
9/11/2010 - First autocross. No rubbing! Car felt good. Results
9/18/2010 - 2nd autocross at meadowlands. Results
9/21/2010 - Stoptech stainless brake lines and Motul RBF 600 Racing Brake Fluid. Also, the Inspection II was done minus valve adjustments @ 61k miles. Oil fill procedure. Includes:
Castrol TWS Motorsports Engine Oil - 6 Quarts
OEM Oil Drain Plug With Crush Washer
Oil Filter Kit
Interior Air Filter (Cabin Filter)
Air Filter - not used because of Dinan Cold Air Intake uses different filter
Fuel Filter
NGK Spark Plugs-Set Of 6
Pentosin MTF2 transmission fluid
Genuine BMW FM booster rear diffferential fluid
9/25/2010 - First time taking the M3 on MMC full course. Info and video here.
10/2/2010 - Revelations...I think the car has 3.91 gears. See why here.
10/16/2010 - Jon at Tonggi Tuning installed an Autosolutions 30% short shifter kit, Rogue Engineering transmission mounts, Turner Motorsports braided steel clutch line, removed the clutch delay valve, new guibo (flex disc), inspected the center bearing (it was perfect; looked new as did the driveshaft), bled the clutch and brakes. I also installed an air scoop made by PowerM3 and adjusted the front Dinan sway bar to the stiffest setting. The car feels really good and tight now. I want to hit the track soon to see if my 2nd gear issue is resolved. Some pics of the installation here.
10/23/10 - Dyno day! Charles at Sick Speed Performance strapped the M3 to his 224x DynoJet to see how much power it's making. 288 hp! Click here for dyno chart.
10/26/10 - I'm happy to report the RE tranny mounts and autosolutions SSK fixed my 2nd gear issue and I chopped off 2 seconds today, still with way early braking because of the stock pads:
02:49:729

02:50:688

02:51:287

02:49:925
Not all roses... I had a PS issue in the same turn in each lap. Lost it for few seconds but came back shortly there after. Another issue I had today was while rev-matching, I could not hear the motor (all stock exhaust) and sometimes my big foot had too much RPM's that I didn't realize until I felt a surge and looked at the tach. I wish I could hear the engine better; maybe headers over winter.
11/27/10 - Got the cars' exterior detailed. No more swirl marks or light scratches; looks great!
2/6/11 - Headers arrived. Pics
2/17/11 - Headers dyno'd. Click here. Also had the Inspection II valve adjustment done (only exhaust side needed shimming).
3/26/2011 Oil and filter changed at 67k miles.
4/9/2011 - First autocross of the season. Click here.
4/30/2011 - Some track time at Monticello. Click here.
5/14/2011 - Autocross with NNJR SCCA at Meadowlands. Click here.
5/21/2011 - My first ProSolo event. Click here.
---