Wilwood Brakes - Front and Rear Calipers, 2 sets of rear rotors, 5 Sets of pads, and a set of Wilwood brake lines. --Jump to pics installed--
---
2/3/2013 update - Todd from TCE Performance Products rebuilt both calipers. Besides new seals and crossover tubes, he put in new thermolock pistons for the big ones in the front ($40/each x 4). In the rears, he put in new SS pistons to replace the aluminum ones. You can see the new pistons (shiny ones) in the pic below. Front rotor is 2 piece DBA 5000 and rear rotor is Wilwood specific: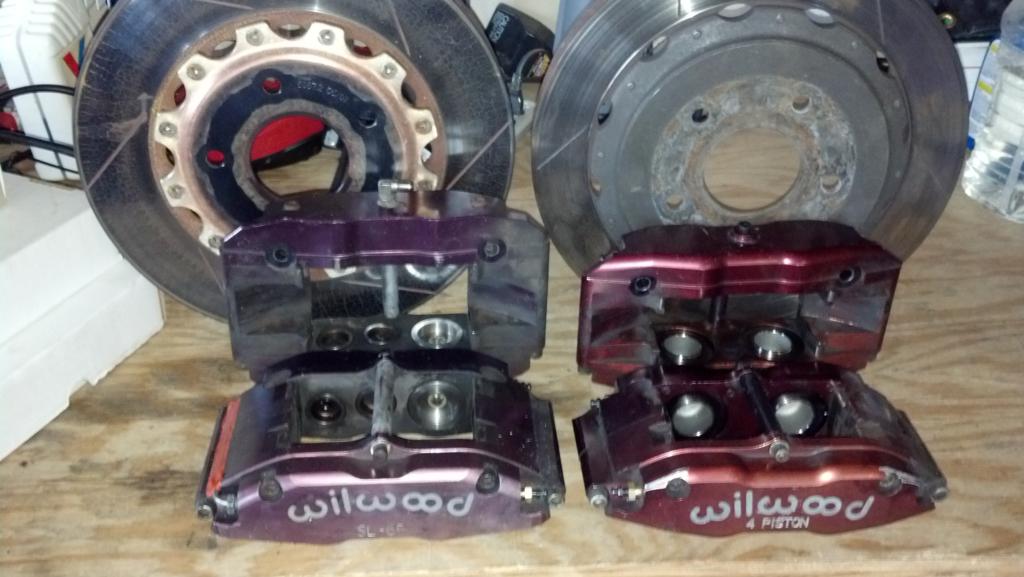 ---
Pads:
Useful links:
Caliper Rebuild instructions, installation instructions, rebuild kit for front calipers, rebuild kit for rear calipers, rear pads DTC60 compound part # HB521G.650
Fronts: Wilwood SL-6R (Lou Gigliotti), BILLET SUPERLITE SL-6R, Front Caliper part numbers are: LN-120-6385-RS & LN-120-6386-RS.
Rears: LG rear kit with 2 piece rotors. Billet Narrow Superlite 4 caliper, rear caliper part #'s: MS-120-8062
Rear 2 piece 13 inch rotors: The 2 on the right are used and the 2 on the left are new (although top one has surface rust):
Not much clearance between caliper and wheel:
Front setup:
Rear setup: