2001 F250 7.3 Liter Turbo Diesel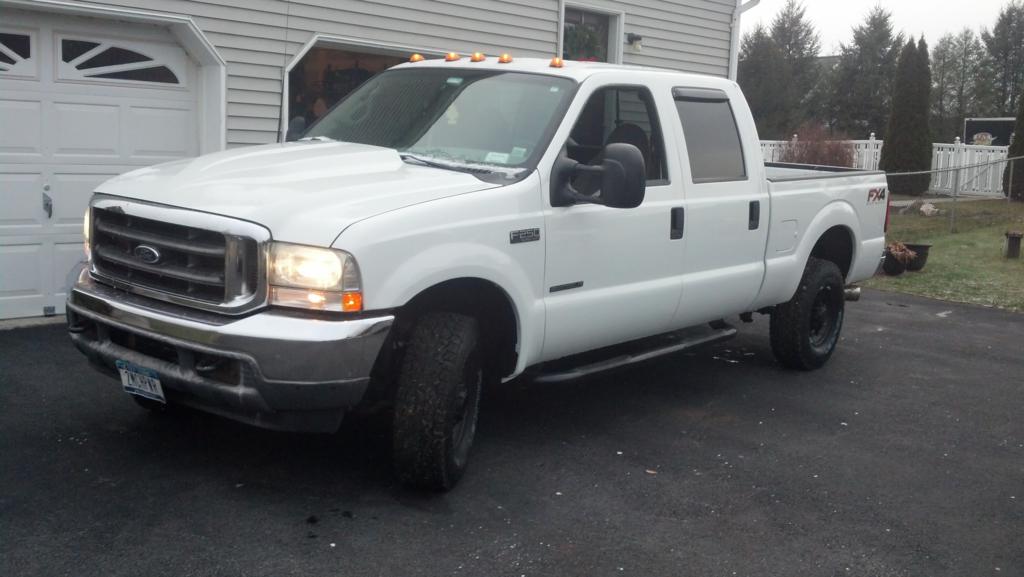 12/28/2013 - 1st Class Alignment changed the head gaskets and glow plugs, Warn Premium Manual Locking Hubs, multi-function switch (turn signal lever). I put in two Sears Diehard Platnium batteries (920 cold cranking amps each) and a new glow plug relay.
12/8/2013 - Color change by Maaco. Replaced the bed with a 2012 superduty bed, tail lights and bumper! Pics here.
11/15/2013 - Getting ready for paint! Pics here.
8/5/2013 - Installed 265/75-16 FALKEN ROCKY MOUNTAIN ATS from Discount Tire Direct. $542 delivered
7/10/2013 - Frank at Strictly Fords replaced the power steering pump and passenger side door lock actuators. Rear U-bolts tightened. Right front speed sensor out by 3mph. Rear caliper pins seized. Right inner tie rod has movement.
7/5/2013 - Pat at Caps Plus installed Timbren SES (#FR250SDE) so the truck doesn't squat while trailering a heavy load
6/1/2013 - Installed Outland 3" black painted steel Tube Steps. Pic 1, Pic 2
5/30/2013 - Aamco Middletown installed tru cool 47391 transmission cooler in series with the stock transmission cooler. I hope this will keep the towing temps under 200.
5/10/2013 - Replaced front passenger side caliper (so now both front calipers are new). Pic
5/3/2012 - McDonald & McDonald replaced passenger rear leaf spring assembly and U joint (slip joint was frozen on shaft). They checked front end hub bearings and all tight. There was a little play in the drag link so they greased it and its tight.
5/2/2013 - Installed a bed cap, craigslist special. Pic Cap
5/1/2013 - Installed Hawk LTS pads in front, front rotors, and replaced front drivers side caliper. Pic1, Pic2
4/26/2013 - Pat at Caps Plus in Goshen fixed the rear tailgate (it was stuck), installed electronic brake controller for trailer and 7- way plug, and fixed/welded the trailer "break away" slot in the hitch.
4/24/2013 - 214,211 miles - Replaced water pump, 195 thermostat, oil change, fuel filters, alignment. Technician notes: truck needs front brakes (rotors, pads, possibly drivers side caliper), U joints. Passenger side rear leaf spring is cracked.
I purchased the truck in April 2013 with about 214k miles. Pics here
---
---
2/17/2012 - NAPA receipt - fuel filter, oil filter, 15w40 oil
12/7/2011 - U joint $32, labor $70
8/25/20121 - 194,004 miles, Sears does oil change
5/31/2011 - A/C clutch
3/8/2011 - Purchases from Diesel Fuel Systems, Inc. - cold air intake kit (S&B 75-5028 Cold Air Intake Kit $280), replaced glow plug relay, all injectors tested fine, oil and filter change, fuel filter changed.
2/8/2011 - 184,332 miles - 4R100 Transmission rebuilt by New England Transmission. 3 year/100k mile warranty. $3,258
1/26/2011 - Starter
12/10/2010 - Replaced rear drive shaft, front U joint (rear sliding spline seized), 4wd inop and blower motor inop. Repaired.
10/15/2010 - 181,228 miles - Sears does oil change, batteries (Diehard)
7/21/2010 - Hankook 285/75R16 tires $203 each
7/12/2010 - new windshield; Safelite/Diamond
7/8/2010 - Silverline exhaust system, $650 shipped
Needs:
new air filter: http://www.sbfilters.com/Cold-Air-Intake-Kits/Replacement-Filters/replacement-filters-75-5027-kf-1041
Key fob: http://www.ford-trucks.com/forums/1236422-key-fob-replacement.html