History of SNOWFLAKE
First Owner:
Email from David Pintaric (original owner/racer):
The car was initially built by Rees Cox, then traded to Joe Aquilante (Phoenix Racing) in 2003. Joe went through it completely before he delivered it to me (to Joe's credit, he won't deliver a car that's half ass).
I bent the rear frame at Gateway in 2004, I think. We had it straightened, and I think it came back from the frame shop with better specs than when it came from the factory. I understand this is common with race cars.
The car was a real good running C5. If I didn't run out of gas, I would have finished Top Ten in the 2005 Run Offs. I sold it to Jerry in June of 2006.

For sale: 1999 Corvette FRC T1 for sale Mar 02, 2006:
http://www.nasaforums.com/viewtopic.php?f=18&t=8285&start=0
http://www.asedan.net/forums/showthread.php?t=339
1999 T1 Corvette – prepared by Phoenix Performance and maintained by Kryderacing, Inc. Finished in 11th place in 2005 Run Offs with second year driver (qualified 13th).

Fresh 2004 LS6 installed by Phoenix Performance Feb 2005 (372 RWHP), Phoenix customer 3" exhaust system, oversized T1-legal radiator.

Fresh T1 suspension (new Sachs socks, A-arms, etc); new clutch in Feb 2005; MN12 transmission.

Carbotech X11 brake pads; new calipers just before 2005 Run Offs.

Choice of CCW or Kodiak 17X10 & 17X11 wheels with Hoosier 315 A3S05 tires (1 heat cycle).

Car is red and in good shape.

$35,000, available after Memphis SCCA National race. I am a very motivated seller.

Contact David Pintaric @ (330) xxx-xxxx or email

The car set a new T1 track record at Memphis Motorsports Park on Sunday, March 12th at 1:12.69. Previous record was 1:13.1+ held by Chris Ingle and set in August 2005.
I don't have official results in front of me, but I have been told that this car was the 2nd fastest T1 Corvette at the SCCA National race at Summit Point this past weekend.

I ran a 1:21.3XX (will edit when I see the results) off a 1:21.6 2005 track record. Unfortunately the new track record is 1:18.9 set by Andrew Aquilante in a Viper. The fastest 'Vette was driven by Lance Knupp at a 1:19.9 (2005 Run Offs podium finisher).
The car and I finished in 2nd place in the April 23rd SCCA National at Gingerman.
---
Second Owner:
Jerry Onks purchases car May 2006:
January 2008 - Winter Vacation National-SCCA Sebring ---Jerry Onks wins !!!
http://www.mylaps.com/results/newResults.jsp?id=714898

Jerry Onks wins, 2:21.2xx
http://forums.corvetteforum.com/autocrossing-and-roadracing/1906549-winter-vacation-national-scca-sebring-jerry-onks-wins.html
Put it up for sale October 2009:
http://forums.corvetteforum.com/autocrossing-and-roadracing/2443445-number-96-t-1-corvette-for-sale.html
Number 96 T-1 Corvette for sale
It's a 1999 upgraded to Z06 specs. The body work isn't perfect but mechanically is excellent. New LS6 motor with one race on it. New z06 Torque tube, transmission
and diff and steering rack. Fresh Amsoil fluids. Ron Davis radiator. T1 lower front control arms. New t-1 springs and bars. Meticulous maintenance. It will come with 4 sets of T-1 wheels, Kodiak and CCW. Tons of Hoosier tires and used and new Hawk DTC pads. Spare axles, bearings and maybe a rear diff. T-1 shocks. I do the engine tuning myself and it has a killer tune. The new motor hasn't been dynoed yet. New SKF bearings all around and new tie rod ends.
Great 8 point cage with Nascar bars on both sides. Sparco Pro 2000 seat, new Schroth Harnesses. 3 qt. Accusump, Transmission and engine cooler. Trans temp gauge and removable Sparco steering wheel. Spare Right rear fender and rear bumper cover and red Hood. 3 Repairable front bumper covers. New clutch ,slave and master with extended bleeder line. Phoenix custom 3" stainless exhaust with Dr. Gass x-pipe.
New windshield. 23,000 actual miles. Was owned by Pintaric and purchased from Phoenix, they did not do all the initial work on the car.
3 track records set...Memphis, Daytona and nashville.
I have owned and driven the car since May 2006. This is my 3rd year at the
National level. Finished 5th at Runoffs in 2008, 7th in 2009. 1st finishing C5. I also am the 2009 SE Div National T1 Champion. Pictures at www.vettesport.net under Runoffs 2009. Located in Smyrna, Tn. $29,500.

Reason for selling: Building an STO car for 2010.

Jerry Onks 615 xxx-xxxx or email
Jerry sent me an email right after I bought SNOWFLAKE:
Just saw your pm. While I had the car the rear tub was replaced and the rear impact bar. A few doors and windshields, front fenders and front bumper covers. Front frame was pulled twice. When I sold the car in Late 2009 it was the fastest legal C5 T1 car in the country with a new crate motor. Hope you enjoy it!
---
Third Owner:
Michael Werner bought the car in after the 2009 season and raced it in NASA ST2 class in 2010 – 2012.
Listed it for sale February 2012:
http://forums.corvetteforum.com/autocrossing-and-roadracing/3000871-st2-tts-c5-for-sale.html
1999 Corvette ST2/TTS car for sale. It was the NASA-SE ST2 Champion in 2010. It has its NASA 2012 Annual tech and a NASA compliant Dyno sheet from Jan 2012 (381HP). Car has fresh arctic white paint (2011), fresh Spec ALuminum clutch/flywheel (2010), and new crate LS6 installed (Sep 2009). $26,500. Pictures on request. Car is in Georgia. It has T1 suspension and GM T1 shocks. No aero. It is a FRC.

Ex Pintarc and Onks T1 car. 3 out of four hubs are SKF (right rear replaced with Timken). Car has oil and trans coolers. Has a heavy duty radiator also.
Won the NASA Southeast championship in TTS and ST2 in 2010: http://nasa-se.com/pdf/2010Points.pdf
Barber Motorsports Park TTS track record: http://www.nasa-tt.com//Southeast_Track_Records
---
Before being painted Arctic White: Team Werner Law car. Used to be Jerry Onk's Nationals winning car.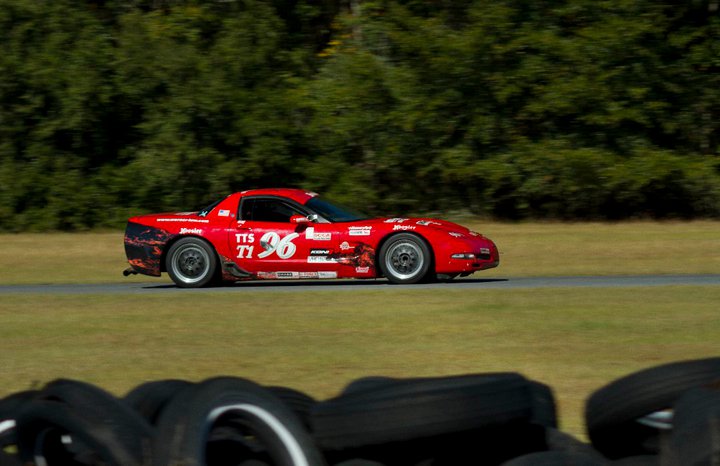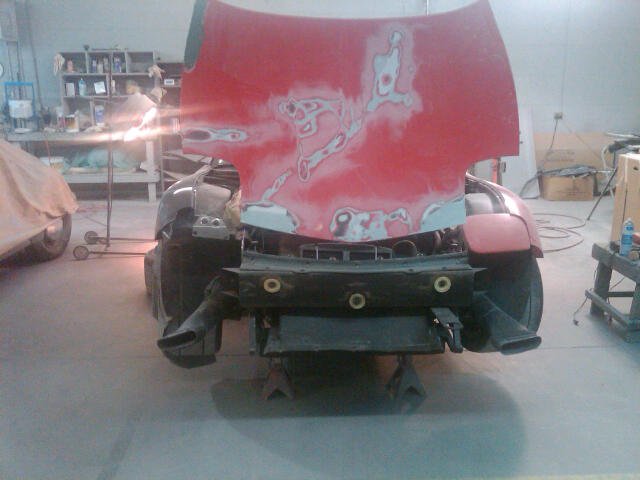 Fender from 2003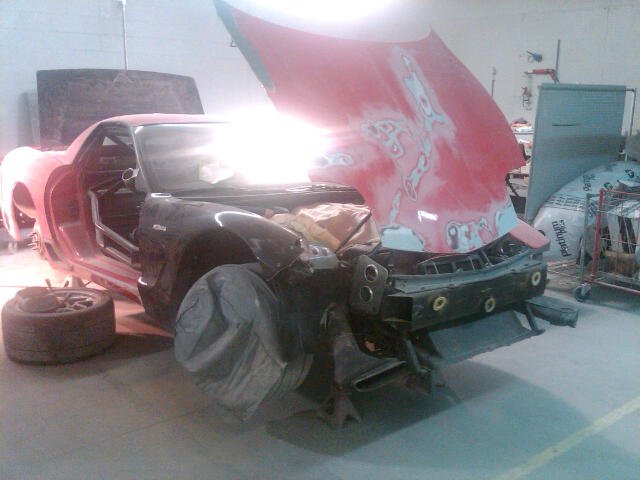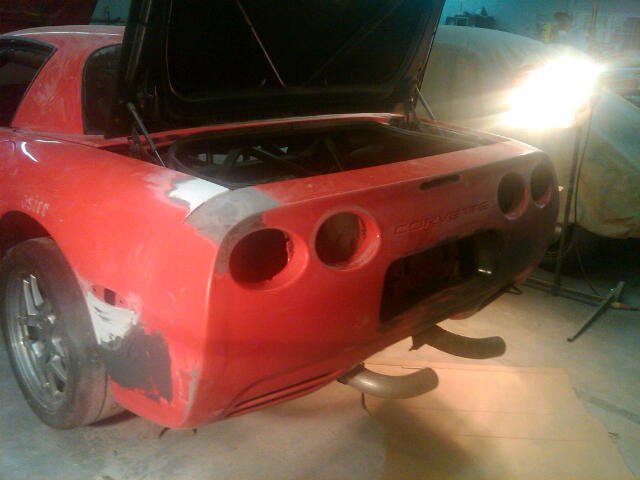 lots of patching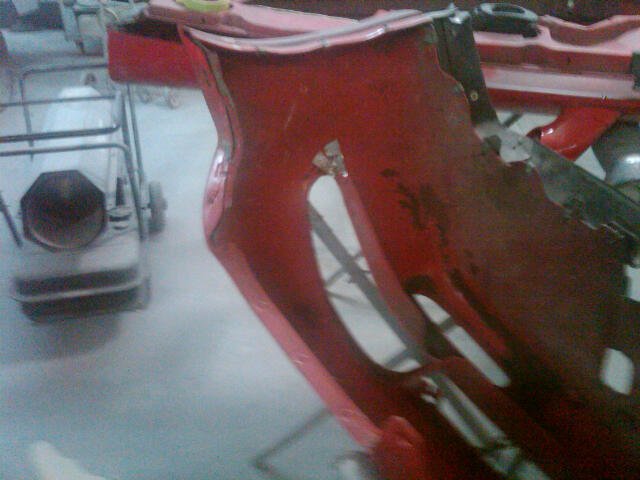 the good side - this one was in the tire wall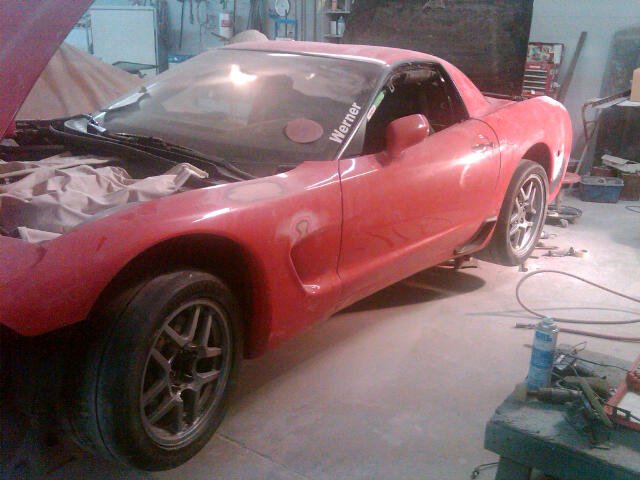 decklid from 2003