-latest updates at bottom-

1998 C5 Coupe trackday/HPDE/TT/race car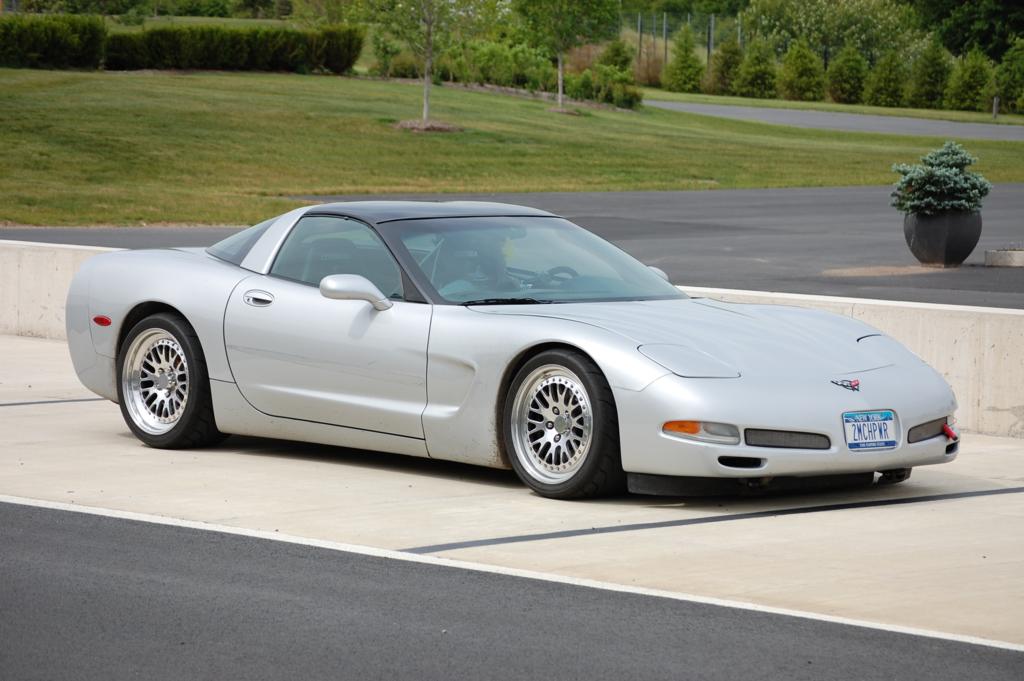 Click here for more pics
---
Purchased 4/25/08 at
117,XXX miles
The car is a perfect track day/HPDE car with all the right stuff (over $5000 in mods already). The car is street legal with a current VA inspection good through 6/09.
Modifications
* DRM coilovers (450 lbs. front springs, 600 rear).
* T1 swaybars w/ heim-joint endlinks and poly bar bushings
* DRM 4-point chassis bar (they can't call it a rollbar) welded in
* DRM brake cooling ducts.
* Full interior, customized to accept rollbar
* Corbeau Forza (wide version, vinyl) racing seats w/ Crowe 5-pt camlock harnesses
* Hardbar Derlin shift knob (stock shifter)
* Cat-less x-pipe with stock mufflers (T1-style straight pipes catback come with the car)
* K&N CAI w/ MAF screen removed
* Sparco racing wheel with quick release hub
* Airbag delete
* SS caliper pistons w/ SS brake lines
* PFC brake pads (unsure of compound, very dusty and squeel when cold)
Maintenance Completed
* Amsoil 5w40 oil fresh change
* Amsoil Synthetic Dextron III trans fluid
* Amsoil 75w110 severe duty gear oil
* Car has had a new PS pump sometime in it's life (looks fresh)
Maintenance Needed/Issues
* Steering rack rebuild needed, one boot is cut and it has a slow leak.
-->5/5 new rack installed.
* Seeps some fluid where the trans meets the rear.
--> Resealed on 7/11
* Vehicle was hit in right front after going off turn 6 at VIR. Repaired by local shop on frame rack, car drives perfectly straight w/o issue. Some of the body panels could use better re-alignment, but the chassis is sound (I used to be an insurance adjuster and have inspected the repairs).
Click here for pics showing the damage.
* The driver's side mirror doesn't work and is epoxied in place.
* The ABS light comes on every now and then asking you to service the car... does not affect drivability
-->5/5 rear hub replaced by dealer and fixed ABS light.
* Left side 1/2 shaft cover seeps...
-->5/5 seal replaced by dealer.
---
5/5 Let the modifications begin:
Oil cooler from TPI Specialties: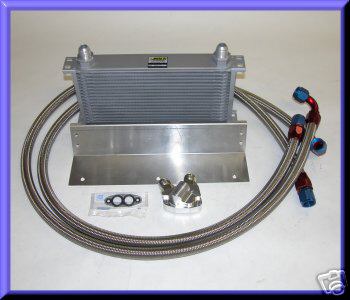 2004 z06 power steering cooler: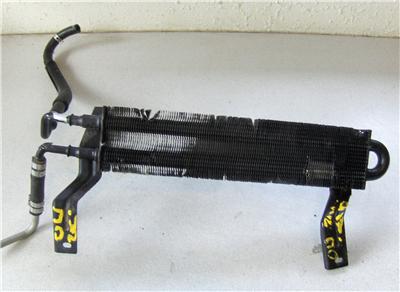 Solid Steering Rack Bushing from Doug Rippie Motorsports: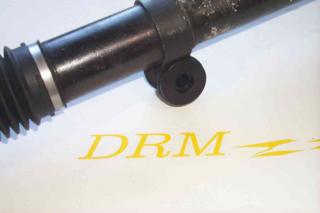 CCW Classics (polished). Sizes are 18x10 (I measured 7.5" backspacing)and 18x11.5 (8.5" b/s) with ARP bolts. Pic 1, pic 2.
Toyo R888 tires, 295/30/18 for fronts , 315/30/18 for rears. The 295's on the CCW's weighed 49 lbs. The 315's were 54 lbs. To compare, the front z06 repro wheels with 265's weigh 45.5 lbs and the rears with 295's are 49 lbs.
For street action, I got a set of SSR comp C H wheels in stock z06 sizes; 17x9.5 in the front (+55offset and I measured 7" backspacing) and 18x10.5 rears (+62 offset and 7.5" bs).
How to train the tire pressure monitoring system.
---
Future Plans: Rear view mirror--> http://www.allviewmirror.com/smart-clip.htm
---
6/3/09 Dyno; click here. 311 hp and 335 tq. Not bad for 120k miles. All stock except cold air intake and off-road x-pipe.
6/3/09 Alignment and Corner Weights
6/4/09 Pics of oil cooler, catch can, x pipe, K&N, PS cooler, frame protectors, CCW backspacing. Click here.
6/12/09 First time on the track (full course best time was 02:54:145). Click here.
6/14/09 Installed Hurst Shifter. Click here.
6/16 Put on the r888's and took a few laps on the south course (1:23.056). Click here.
6/23 Ran 4 laps on the north course; best lap time was 01:34:573. Looking back at the video, I left a lot of time on the table. I predict 1:30's soon. "Right Click, save target as" to view video. For comparison, Howie ran a 1:37 and I ran a 1:38 in a 550 hp caddy CTS-V.
7/4 Destruction inside the torque tube. Click here.
7/11 Installed LS6 clutch & pressure plate, aluminum flywheel, new slave cylinder, rubber guibo bushings on the driveshaft, remote bleeder valve, new NAPA front rotors w/ Performance Friction (PFC) 99 compound pads, oil & filter, and a new reverse lockout solenoid. Improved my lap time on the full course from a previous best of 2:54 to 2:47.3:
7/15 Tooks some laps on the north course in an attempt to beat my previous best of 1:34. Mission accomplished:
01:31:404

--> NEW BEST. 38 psi front tires, 35 rear.

01:31:479

01:31:671

01:31:560

01:32:088

01:32:688
7/17 PDA's "Grand Slam" event at Pocono. Click here.
8/7/09 Took a few laps on the south course; set a new best on my first lap (1:23:0 was previous best). Then hit traffic for 2 laps, then rear tires had too much pressure (40 lbs.) and was oversteering:
01:20:242

01:26:881

01:24:066

01:22:561

01:22:332

01:21:344

01:21:378
8/19/09 Changed rear brakes. Installed Centric Premium rear rotors, Hawk HP+ pads and bled the system with ATE Super Blue fluid. Also noticed front upper A-Arm bushing is being pushed out. Pic 1. Pic 2. It is caused by the high stresses of cornering loads on race tires and bushing deflection. The rubber deflects so much, that it essentially gets pressed out of the arm. It is a common issue for the c5 and c6. Winter project. Stay stock (rubber) or go poly?

8/21 Sam Schultz, professional driver in the Koni Challenge Series, took my car for a few laps and got a 2:45.418, which beat my previous best of 2:47.3. I can't complain about being 2 seconds behind a pro driver but I think I can match that time soon.

8/24 Installed a titanium cat-back exhaust (mufflers and tailpipes) from a z06. It weighs 18 lbs less than the stock system, is a little louder, and gives a minor boost in HP. Also installed a rear tow hook from Phoenix Performance. Exhaust pic 1, exhaust pic 2, tow hook pic. Here's a short video with before and after sound clips of the exhausts. Right Click and "Save Target As".

8/31 So last month by best time in my vette was 2:47. Last week, I let the track pro drive my car (Sam Schulz races in Koni Challenge) and he got a 2:45 with me in the car.

I was happy to be within 2 seconds of a pro. That ain't shabby.

Since then I put the z06 cat-back which dropped like 15 lbs and gained 5 hp?

So today with ¼ tank of full and no passenger, I ran a 2:41!

When I came back in after the session and they told me my times, I thought they were messing with me, but I have video/data acquisition and its true.

Crazy.

Anyway here's the video with some slips and slides:

Click here to view it on youtube. Going fast is fun but my front tires aren't happy; corded tire pic. Tires are 3 months and 3,000 miles old.
02:47:438

02:41:854

02:43:376

02:43:529
9/20/2009 Got all the rubber bushings in the front replaced with poly bushings by TTP and re-aligned. Front camber is now only -1.8 and rear is -1.25. Got new toyo r888's for the front. Tried for a new best but tied it with a 2:41.937. Cracked a rotor on front passenger side, so getting new front rotors. Pads look half worn so should last the rest of the season. Oil leaking on intake (PVC?) and fluid leaking from tranny (again); might be from vent.

11/1/09 - Charles from Sick Speed Performance installed a new used radiator and surge tank, new O2 sensors, oil & filter

11/4/09 - Got the car professionally detailed. Click here.

March 2010 - Sold car.